Reliable Move Out Cleaning Services
Deep House Cleaning is a leading local company offering move-out cleaning services. Our team thoroughly deep clean the entire property and make sure that the leased money can be easily recovered from landlords.
We can offer custom end of tenancy cleaning at affordable prices, whether you need to vacate your rental home or business space. And believe us, our hiring cost will be nothing in comparison to the time and money you might spend cleaning on your own.
Let professionals do the job. You can stay and enjoy your coffee.
Why Pick Us For Move-In Cleaning?
–        We recognize the value of a new beginning in your new home. Because of this, we go above and beyond to make sure your new home is pristine and prepared for you to move in.
–        Your house will be properly cleaned and disinfected since we only use the best cleaning supplies.
–        No area is overlooked because to the efficiency and attention to detail of our team of seasoned specialists.
–        To meet your demands, we provide affordable rates and flexible scheduling.
Get Move in cleaning in 4 steps:

Get A Quote
Get your Free Quote via Our Quotation Form Online or Give us a call.

Meet your Cleaners
Our Cleaners will arrive at your doorstep with all the products and equipment at the convenient day and time.

The cleaning team
The move in cleaning team will use a custom-tailored checklist to meticulously refresh your property.

Once your session ends
Once your session ends, the specialists will ask for your feedback, leaving you with a thoroughly refreshed property.
Why Choose Move In Cleaning?
We apply specialized, Eco-friendly products
Reliable check out cleaners for almost 6 years now.
We guarantee a 5 STAR housing cleaning service.
Reliable Cleaners are fully trained and professionals.
We work until it's done – no time limits
We use Professional Products and Equipment
Choosing Our Service you Get 40% Discount for Steam Carpet and Upholstery Cleaning
The team will cover the following areas:
Living room
Kitchen
Hallway
Bedroom
Bathroom
Living room
Removing cobwebs, dusting accessories and lampshades, wiping skirting boards, cleaning windows, furniture, doors and radiators, scrubbing light switches and plugs, hoovering and mopping the floor (if hard floor)etc.
Kitchen
Hallway
Bedroom
Bathroom
Before Moving In, Cleaning A New House Might Be Difficult.
On your own, cleaning a new house may be a difficult and exhausting process. In addition to taking a lot of time, cleaning may be physically taxing, particularly when it comes to tackling difficult-to-reach places.
It might be difficult to completely eliminate the dust and filth that has gathered over time when you move into a new house. Additionally, there can be stains, smudges, or markings on the floors, walls, or other surfaces that need to be cleaned using specialist tools or methods.
A variety of tools and materials are needed to clean a new house, including vacuums, mops, cleaning solutions, and more. These may be expensive to buy and keep in storage.
A new house may also be hard to clean, particularly if you attempt to do it all by yourself. It may take time and effort away from more crucial duties like unpacking and settling into your new home.
You may save time, effort, and worry by using a move-in cleaning service, and you can be confident that your new house is pristine and prepared for you to move in.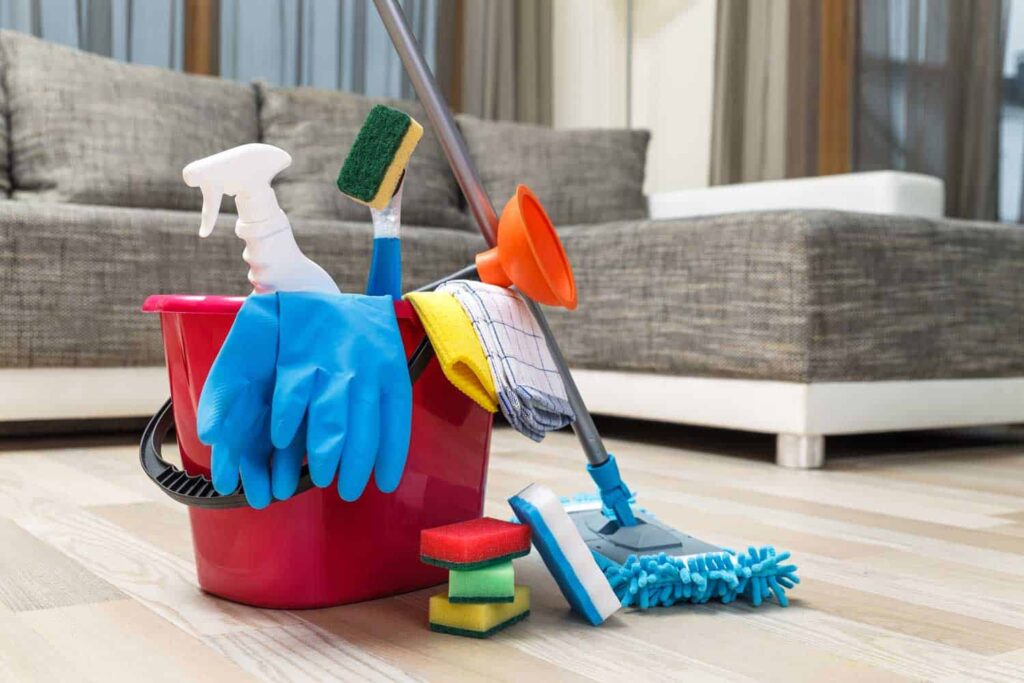 Reserve Your Cleaning Now For Your Move-In!
Spend no more time worrying about keeping your new house tidy. Let us handle it so you can concentrate on making it your own. Make an appointment for your move-in cleaning service with us right away to see the difference.
Are You Searching For "Move-In House Cleaning Near Me"? Here Are A Few Additional Reasons For Picking Us.
–        We have years of expertise offering house owners, landlords, and real estate agents excellent move-in cleaning services.
–        Our staff of experts is committed to making sure that your new home is meticulously cleaned and ready for you to move in.
–        To make sure your house is immaculate, we only use the finest and most efficient cleaning tools and supplies.
–        We provide reasonable costs and flexible scheduling to meet your requirements.
Your new house will be pristine and dazzling from top to bottom when you pick our expert move-in cleaning service. No effort will be spared by our team of skilled experts in their mission to make your new house spotless.
Deep House Cleaning is the leading provider of in-home services, building brands that support the success of franchisees as well as better the lives of the homeowners we serve and the people we employ.
Book a service with Deep House Cleaning on Contact Page, or use our online contact form. You can call us 24 hours a day, seven days a week, and we will be more than happy to provide you with all the information you need about our services.